---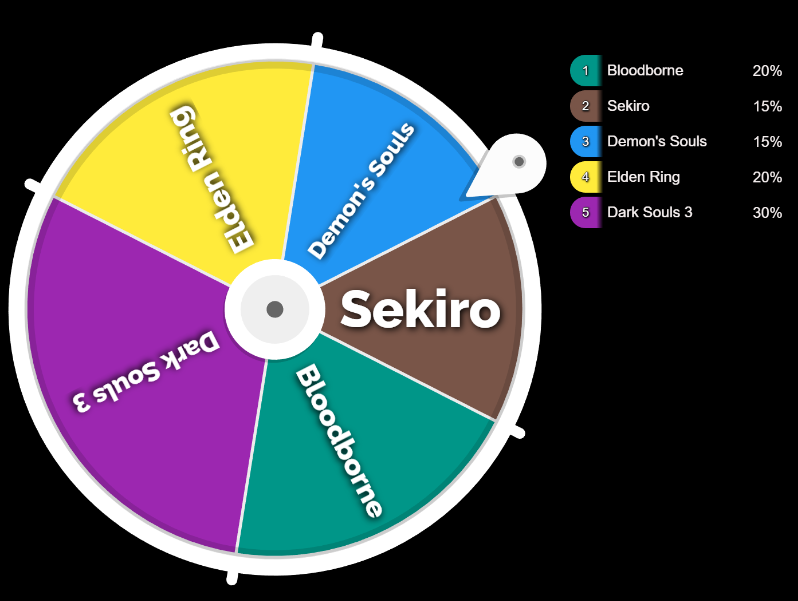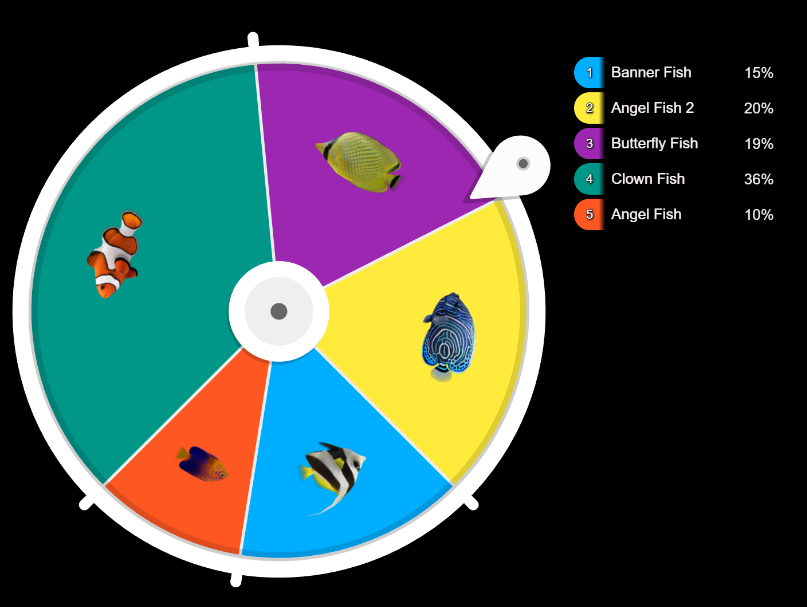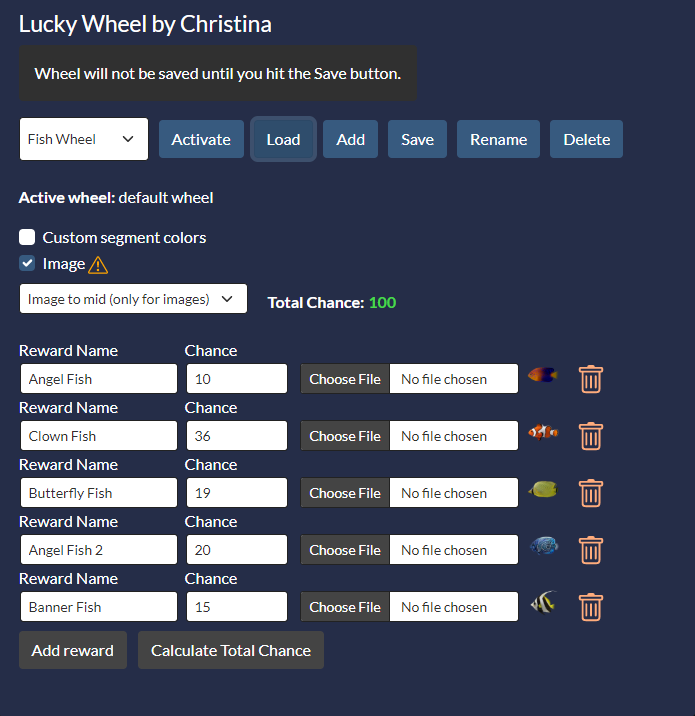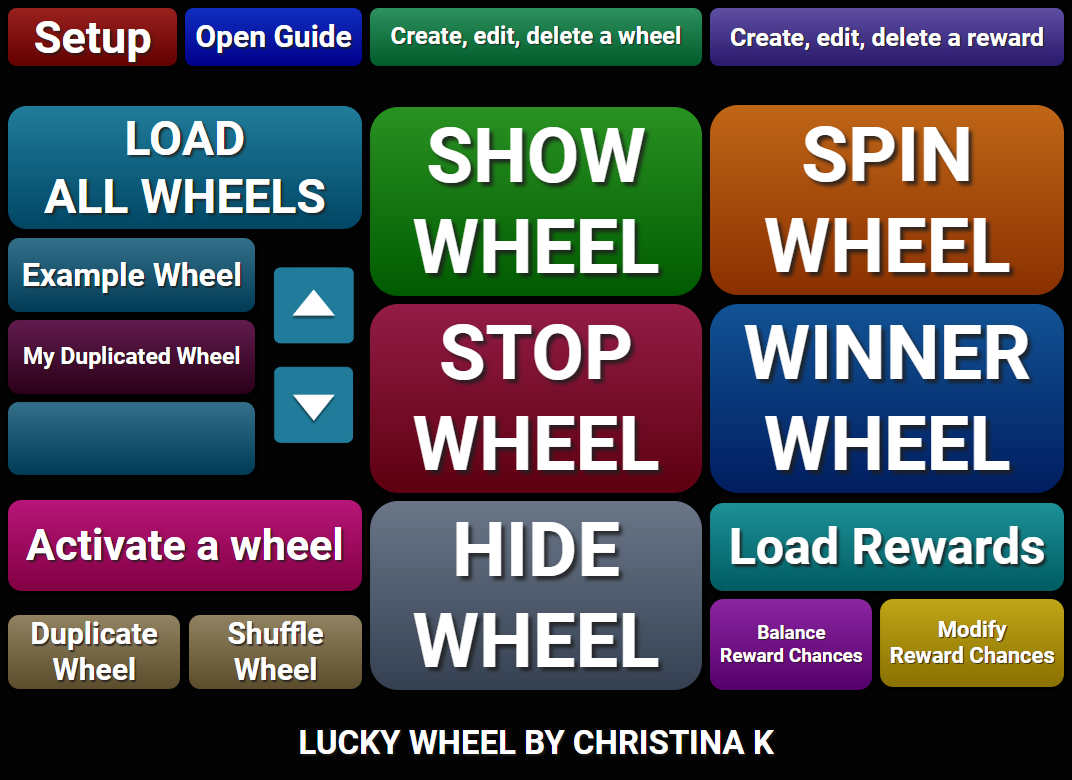 Overview
Create, modify and control your Lucky Wheel overlay in OBS straight from SAMMI! Very easy setup and use!
Set up your own wheel in a few easy steps!
User friendly interface in the Bridge to set up and modify your wheel. You can have multiple different wheels as well!
Control your wheel directly from Stream Deck
You can load, spin and stop spinning the wheel with one press of a button in your Stream Deck or add your own chat triggers, so that your mods can control it too! The winning reward's name will be automatically saved into a variable in your Receiver. In SAMMI you can newly activate and cycle through all your wheels.
Customize it!
You can have a simple text based wheel with randomly generated segment colors each time you load it.
Or… you can choose a color for each segment.
And… you can use an image for each segment instead of text! There are also a few different animations available!
Give you viewers the power to increase the reward chances! Can be activated through chat or channel points redeems!
---
Special thanks goes to:
SteveLevesque and Djargic for their continued support on Github.
The Argamenmock, EndoSkull, Evan, Panic, DoctorFu, kurocha, Stephen, Ethan, griddark, Kenny, Mill, William, Paul, deaffrasier, Venge, PapaBear Does Stuff, TTarantox, Rodrigo, Harvey Toadface, Alchemy_03, REVAMPEDDRDTH37 Williams, RhinoMonsterGC, JimmyPotato, Bryan, my amazing Patrons!
Cyanidesugar, feature_creep for helping me test the extension!
If you would like to support me in creating more extensions for SAMMI, you can navigate to the Donate section.
Need a custom tailored extension? Head to the Commissions section!
DISCLAIMER: The extension is provided as is. The developer has no obligation to provide maintenance and support services or handle any bug reports.
Feel free to edit the extension for your own use. You may not distribute, sell or publish it without the author's permission.
---
Setup
Some extensions might not be migrated to OBS 28 (and OBSWS 5.0) yet. Please see the developer's information.
This guide is for Lucky Wheel for SAMMI.
Place the Lucky_Wheel folder from the zip file in SAMMI/Ext folder (create the Ext folder if it doesn't exist yet). The correct path for your extension folder is SAMMI/Ext/Lucky_Wheel. See the placement of Ext folder in the image below.

image

Install the extension while connected to OBS.
Press the red SETUP button and follow all instructions.
Go to your Bridge to Lucky Wheel tab and set up the wheel (there is a default wheel already premade). You can modify it or add your own wheel. Press Save button to save the modified wheel. Press Activate button to activate the current wheel to show as your OBS overlay.
You can also cycle through your wheels and activate different wheels directly from your Stream Deck - just press the LOAD ALL WHEELS button.
Press SHOW WHEEL button in your Stream Deck.
Spin it!
Each button has comments explaining how the button works. Please read them and adjust the buttons (such as chat messages) for your own stream!
Migrating existing wheels from LioranBoard 1
Locate your original lucky_wheel.ini file in your LioranBoard1/Receiver folder.
Copy lucky_wheel.ini to your SAMMI folder (where SAMMI.exe resides)
Press brown CONVERT FROM LB1 button. It will convert all your wheels to a new format that SAMMI uses and save them in SAMMI/Ext/Lucky_Wheel/luckyWheel.ini file.
Verify all your wheels have been successfully converted.
You can now delete lucky_wheel.ini file, you will not need it anymore. Your wheels are now saved in SAMMI/Ext/Lucky_Wheel/luckyWheel.ini file instead.
Add and modify wheels
This can all be done from your Bridge - Lucky Wheel tab. If you wish to use images, they must be already in your SAMMI/Ext/Lucky_Wheel/img folder prior to adding them in the Transmtiter.
Activate a wheel
You can see your currently active wheel both in your Stream Deck (it will be marked red in the list below LOAD ALL WHEELS button) and Bridge. Click on the wheel that you wish to activate (and display as overlay in your OBS).
Display a wheel in OBS
Simply press SHOW WHEEL button.
Spin and stop a wheel
Press SPIN WHEEL button to spin the wheel. It will automatically stop after some time. If you wish to stop it manually, you can remove the command that triggers STOP WHEEL from the button.
Get winning result
When you wheel stops spinning, WINNER WHEEL button will trigger. Your winning result will be saved in wheel_winner variable.
Modify reward chances
If you wish to change the channel point redeem name for modifying rewards (default is 'Lucky Wheel'), right click on the Modify rewards button - Edit Twitch Triggers. Scroll down using the big arrow and modify BOTH redeem names (one is for decreasing the reward chance and one is for increasing it).
Chat trigger (only broadcaster and mod) for modifying rewards:
!wheel REWARD NAME +PERCENTAGE or !wheel REWARD NAME -PERCENTAGE (i.e. !wheel Sekiro +10 or !wheel Bloodborne -50)
Channel points redeem message for modifying rewards:
REWARD NAME +PERCENTAGE or REWARD NAME -PERCENTAGE (i.e. Sekiro +10 or Bloodborne -50)
Privacy Policy
This developer has disclosed that it will not collect or use your data.
---
This developer declares that your data is:
Not being sold to third parties.
Not being used or transferred for purposes that are unrelated to the extension's core functionality
Not being used or transferred to determine creditworthiness or for lending purposes