---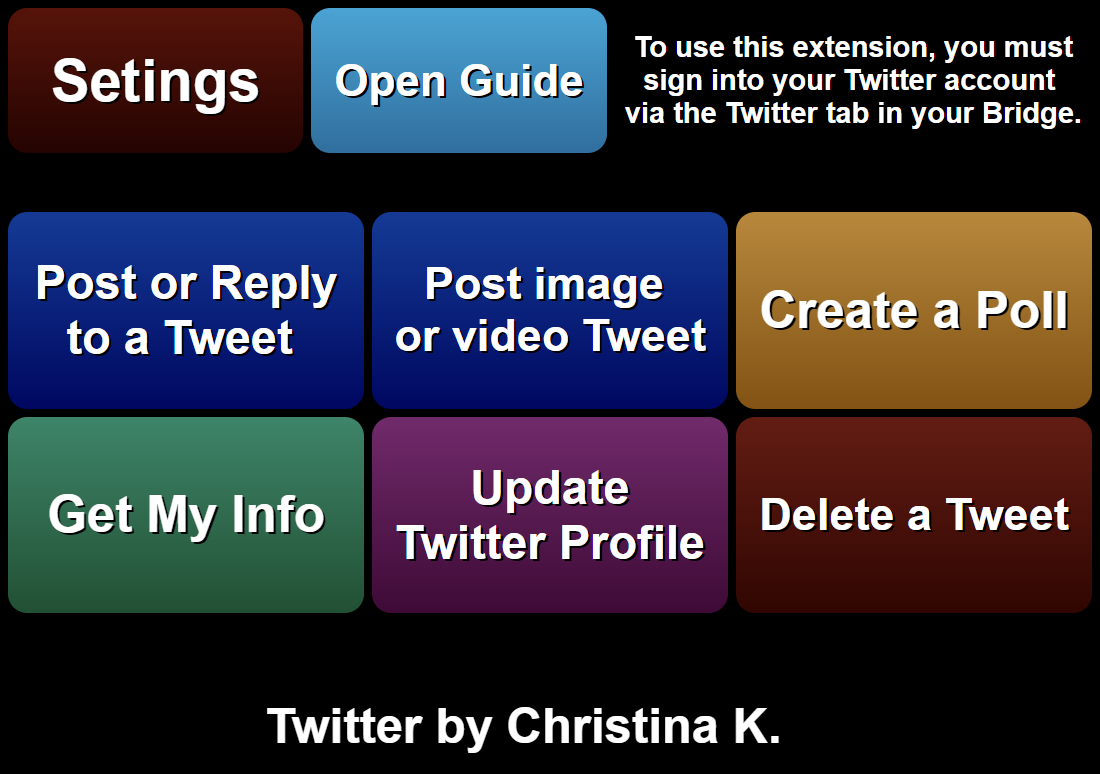 Overview
Send, retrieve and monitor Tweets straight from SAMMI.
Features
Tweet (including the ability to automatically create threads!)
Retweet
Reply to a Tweet
Get Recent Tweets
Monitor New Tweets (and trigger actions in your SAMMI)
Update Twitter Profile
---
Special thanks goes to:
SteveLevesque and Djargic for their continued support on Github.
The Argamenmock, EndoSkull, Evan, Panic, DoctorFu, kurocha, Stephen, Ethan, griddark, Kenny, Mill, William, Paul, deaffrasier, Venge, PapaBear Does Stuff, TTarantox, Rodrigo, Harvey Toadface, Alchemy_03, REVAMPEDDRDTH37 Williams, RhinoMonsterGC, JimmyPotato, Bryan, my amazing Patrons!
If you would like to support me in creating more extensions for SAMMI, you can navigate to the Donate section.
Need a custom tailored extension? Head to the Commissions section!
DISCLAIMER: The extension is provided as is. The developer has no obligation to provide maintenance and support services or handle any bug reports.
Feel free to edit the extension for your own use. You may not distribute, sell or publish it without the author's permission.
---
Setup
Some extensions might not be migrated to OBS 28 (and OBSWS 5.0) yet. Please see the developer's information.
Install the extension. You can follow the Extension Install Guide.
Log into Twitter

Go to your Bridge - Twitter Tab.
Click on Login select Open or Copy Twitter URL (and open it).
Copy your provided PIN
Fill out the "Enter PIN" input field and click on Authenticate. Wait for a few seconds. If it says Logged in, you're all good to go.

You can now use Tweet commands directly from your SAMMI. Just open the premade deck and follow comments with instructions in each button.
Privacy Policy
This developer has disclosed that it will not collect or use your data.
---
This developer declares that your data is:
Not being sold to third parties.
Not being used or transferred for purposes that are unrelated to the extension's core functionality
Not being used or transferred to determine creditworthiness or for lending purposes