---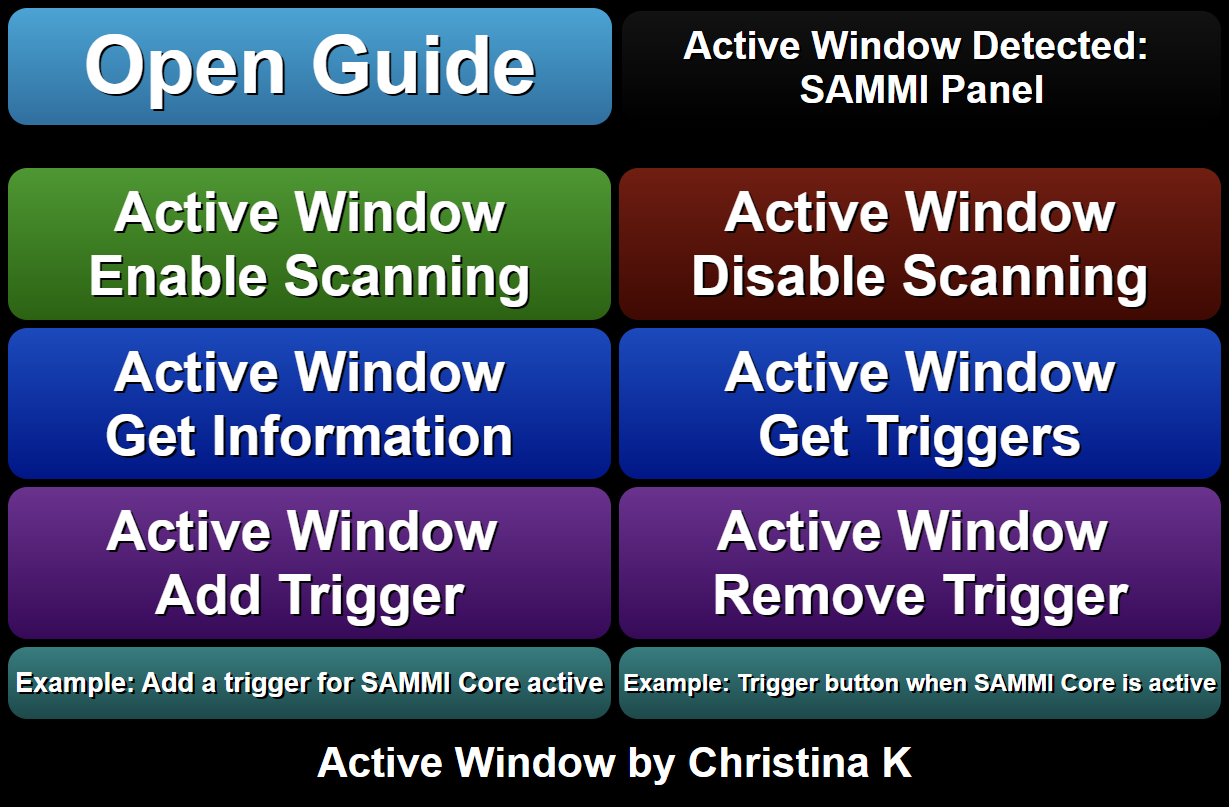 Overview
Simple extension to get your current active window and its state (full screen vs. windowed) as a variable in SAMMI.
For example, it can be useful for when you want to switch your scenes depending on what game you're playing and whether it's in full screen mode or not.
Important Note
Fullscreen state is only detected for apps running on your main monitor/desktop.
The extension uses AutoIt script to work. You do not need to install any dependencies as it is already all compiled.
It has been tested only on Windows 10.
Special thanks goes to MisterK for migrating the extension to SAMMI.
---
Special thanks goes to:
My amazing Patrons, and the following beta testers: Melonax.
Thank you so much!
If you would like to support me developing SAMMI itself and my extensions, you can join my Patreon, which will give you access to all my upcoming creations for completely free and priority help on any of my extensions.
DISCLAIMER: The extension is provided as is. The developer has no obligation to provide maintenance and support services or handle any bug reports.
Feel free to edit the extension for your own use. You may not distribute, sell or publish it without the author's permission.
---
Setup
Place the inner Active_Window folder in SAMMI/SAMMI Receiver(PC)/Ext folder.
Install the extension. You can follow the Extension Install Guide.
Press Active Window Start Scanning button.
Press Example Use button to see an example of how you can use this exension. Your active window and its state will be displayed as a yellow notification alert in your Receiver.
Press Active Window Stop Scanning button if you wish to terminate the script and stop scanning for active window.
If your Antivirus doesn't like running the .exe file, you can use the .a3x file instead. Instructions can be found in the blue button in your premade deck.
Please do NOT rename or move this folder outside of Receiver/Ext folder and do NOT rename of move any of the files within this folder. They're all important for the extension to correctly function.
Folder Contents
LBActiveWindow.exe - compiled script which scans for active window process name and size
LBActiveWindow.a3x - compiled script but without the final exe. Must be run with AutoIt installed. Might work better than the .exe version if your antivirus is too aggressive.
LBActiveWindow.au3 - uncompiled script. Can be edited in AutoIt.
activewindow.txt - the script saves the active window process name and size into this txt file
LBActiveWindowKill.bat - batch file to kill the currently running script
LBActiveWindowKill.vbs - visual basic script to run the batch file silently
Note: Your antivirus may not like the .exe file included in the zip, which is a compiled AutoIt script to detect your active window.
You can give it a permission to execute it or use its non exe version, just follow the instructions in the blue button in your premade deck!
Privacy Policy
This developer has disclosed that it will not collect or use your data.
---
This developer declares that your data is:
Not being sold to third parties.
Not being used or transferred for purposes that are unrelated to the extension's core functionality
Not being used or transferred to determine creditworthiness or for lending purposes